HIPAA-compliant video conferencing development is gaining traction for a simple reason that many popular video conferencing tools like Skype and the free Zoom plan don't comply with the HIPAA standard. In light of the latest ONC provisions, it's illegal to use them to provide remote care services with software for video conferencing that doesn't comply with the HIPAA standard. Keep reading to learn why healthcare providers build their own HIPAA-compliant video conferencing platforms and how you can build one, too.
In this article, we define the best platforms, review reasons to create your own HIPAA-compliant video conferencing platform, and what it takes.
What is a HIPAA-compliant video conferencing solution?
By definition, HIPAA-compliant video conferencing is a tool that follows the HIPAA Security Rule to safeguard electronically protected health information (ePHI) on administrative, technical, and physical levels.
What is the difference between the HIPAA-compliant and any other video conferencing tool, you may ask? The HIPAA-compliant video conferencing platform's crucial component is ensuring integrity, confidentiality, security, and availability of ePHI.
And what exactly do we mean by ePHI? Here is a couple of ePHI you may recognize:
Name or health plan
Business or home address
Payment information
Telephone or fax number as well as email
Social security or insurance number
Medical record number
Date of appointment, payment, etc.
License or registration number of a car
Biometric identifiers
Serial numbers of devices
Photos and videos of people
As you can see, HIPAA regulations are created to protect ePHI and improve interoperability between patients, clinics, and third-party administrators.
Want to become HIPAA-compliant?
Learn about best practices of FHIR implementation.
Download whitepaper
The best HIPAA-compliant video conferencing platforms
Video conferencing is a great way to stay connected with colleagues and clients no matter where they are. With video conferencing, you can hold conference calls with up to 16 people at the same time. You can also use video conferencing to present products or services to customers.
To ensure the safety and privacy of your video calls, you need to use a HIPAA-compliant video conferencing platform. These platforms have been designed with your privacy and safety in mind. They encrypt all your video and audio data, and they offer features like call recording and screen sharing.
Let's have a look at the best HIPAA-compliant video conferencing
GoToMeeting
GoToMeeting is a mobile and desktop video conferencing application similar to Zoom that can be used for personal and professional purposes. They provide three plans, each of which complies with HIPAA requirements.
The cost of the Professional, Business and Enterprise plans is depicted in a subscription plan.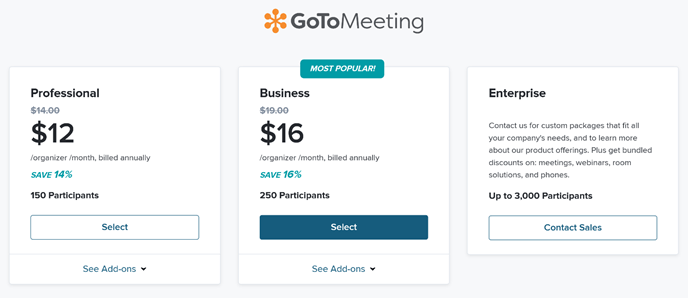 Healthcare professionals and anybody else who needs additional protection can use any of the three options.
One important feature is the capacity to have several participants in a single session. For instance, the entry-level plan enables up to 150 users to participate in the call, making it a perfect choice for webinars, virtual conferences, staff training, and hosting your company's yearly Christmas party.
Benefits of GoToMeeting:
High definition: You can be confident that all your meetings will have HD video and audio.
Meeting locks: Prevent unauthorized visitors from entering during private calls.
No deadlines or restrictions: Possess the freedom to book as many appointments as possible or to work overtime if necessary.
Share documents, health tips, and more using screen sharing.
Useful for large webinars or employee meetings is the chat feature. Again, it complies with HIPAA requirements.
VSee
VSee is a comprehensive solution for handling the many telehealth communication responsibilities, including appointment scheduling, participating in high-definition video conversations, and maintaining patient forms.

Free Forever, Basic, and Enterprise are the three programs that VSee provides. The chart below shows the features and pricing breakdown for each plan. And each of the three programs complies with rigorous HIPAA guidelines.
Benefits of VSee:
Device integration: Whether your patient's blood pressure cuff, a Bluetooth scale, or Fitbit data is used, this cutting-edge software is ready to interface with it. Patients may even send images during their appointment; doctors can screen-share scan findings.
Walk-in appointments: Patients can enter the virtual waiting area and determine how long they should expect to wait to see a doctor. While they wait, instructive films and live chat are also accessible.
Patient video call success: They go above and beyond to directly address technical difficulties with the patient, saving your medical staff hours of annoyance.
Doxy.me
There aren't many HIPAA-compliant, totally free telemedicine video conferencing services. Fortunately, doxy.me has you covered. This one is at the top of our list for secure, private, and convenient video conferencing alternatives.

Benefits of Doxy.me:
Nothing has to be downloaded because this program is browser-based. Just sign in and start working.
Availability everywhere: Private meetings are accessible to you and your patients through a laptop, tablet, or smartphone.
Simple client accessibility: Each client is given a URL that may be clicked to access their session. This is especially beneficial for senior patients who might feel overwhelmed by more log-in information.
Open to all: The doxy.me staff thinks there should be no financial restrictions on healthcare — yay! You can create as many sessions as possible, without time or cost restrictions. Additionally, you even receive a customized room URL.
Build and revamp interoperable telemedicine solutions: enable remote health monitoring and adhere to the HIPAA standard

Read more



Zoom
With a powerful, user-friendly, and reasonably priced video conferencing service, Zoom has dominated the market. It's crucial to remember that the free Zoom interface does not adhere to HIPAA regulations. The Zoom for Healthcare package, which starts at $200 per month and includes up to 10 hosts, is what you must expressly sign up for in this situation.
Benefits of Zoom:
Access to health forms

: You may quickly access a patient's electronic records within the call.

High definition: HD audio and video are constantly accessible.
Whiteboard: Excellent for writing prescription names or suggestions for health plans.
Recording: This strategy enables recording and transcribing, which are beneficial for further consultations.
AES 256-bit encryption for all meeting data, whatever you or your customer puts in the Zoom chat box will be secured by HIPAA requirements.
Simple Practice Telehealth
Simple Practice Telehealth stands out because of its seamless insurance processing function, which makes it a great option for practitioners in the mental health and medical fields as well as anybody else who wants to submit insurance claims.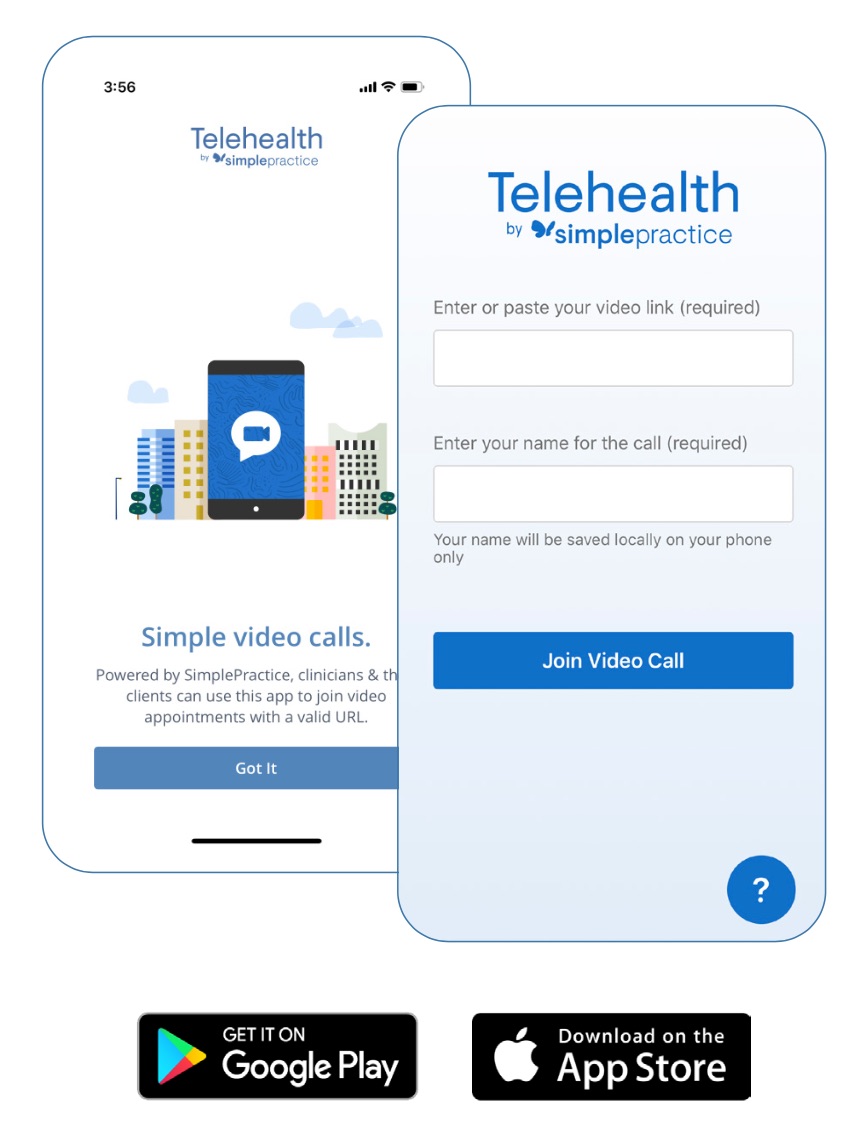 Benefits of Simple Practice Telehealth:
Online booking: Provide customers with a simple-to-use online booking system so they may manage their healthcare requirements.
Processing insurance: Simply enter the patient's insurance information and the service number, and the program will do the rest.
Screen sharing: Share significant notes, illustrations, and goal charts
Billing through autopay: Your customers may choose to set up automatic payments, ensuring they never forget to pay a bill.
Simple client accessibility: Instead of requiring cumbersome log-ins or passwords, clients are supplied a specific clickable link.
Vonage
Vonage is a video conferencing solution that meets the stringent security and privacy requirements of the Health Insurance Portability and Accountability Act (HIPAA).
Robust encryption, access controls, and data protection measures make Vonage a trusted choice for telehealth services. And that is why it was also the choice of the Binariks team when they were developing an in-app experience for a DTx application .
Vonage video conferencing platform facilitates immediate healthcare interactions by linking medical professionals with patients regardless of location or device. Utilizing video, voice, SMS, chat, and social media, Vonage's cloud-based solutions offer a secure and effective means of providing telehealth services while safeguarding patient information.
Benefits of Vonage:
Scalability: Vonage's cloud-based services are scalable, allowing businesses to adjust their communication resources as needed.
Integration: Vonage provides integration capabilities with various popular business applications and tools, streamlining workflows and enhancing organizations' productivity.
Screen share and recording: These features allow for collaborative whiteboarding and for accessing a specific conference in the future.
Comprehensive meeting reports: You can keep a record of recent meetings, and view information such as duration, participant details, chat transcripts, attached files, and more.

AWS-based Primary Care Platform
Binariks helped scale a web platform for patient monitoring and management

Read more



Must-have features for your HIPAA-compliant video chat platform

With custom development , you can invest in implementing specific features that align with your business goals. Additionally, you can map out the gradual growth of your product by implementing the most crucial features first and running the development of secondary ones in the following iterations.

So what are the most important features of HIPAA-compliant video conferencing solution? Here are a few ideas:
| | |
| --- | --- |
| Feature | How it works |
| Admin console | Get an eagle-eye view on the user and global level account settings, get live-time insights into product performance, and manage add-ons. |
| HD video | Ensure high definition video connection to help doctors take a close look at the patient's behavior. |
| Chat | Exchange text information and share data in various formats in real-time mode. |
| Digital whiteboards | Illustrate ideas and materials using screen sharing function. |
| Recording and sharing | Record a session with a patient, store or download it on the cloud, and share with peers through a link or by uploading a file via chat. |
| Custom meeting ID | Increase chances for maintaining ePHI security and integrity by automatically generating unique links to meetings and inviting people to safe online appointments. |
| Non/DICOM format media exchange | Sharing data in DICOM and non-DICOM formats including but not limited to PDF, MPEG, JPEG, PNG, avi, and XML. |
| Screen sharing | Show the screen of both doctors and patients. |
| Performance reports | Detect recurring connection issues and improve your product immediately. |
| Multi-party video/audio calls | Engage an endless number of concurrent users that join the meeting via a link from versatile gadgets. |
| Branding features | Promote your brand through personalized brand elements during telehealth appointments. |
| Mute/unmute tool | Allow all participants to mute and unmute their microphones to make the exchange of information more productive. |
Best practices for HIPAA-compliant video conferencing software

Now that we know that not all tools are considered HIPAA-compliant video conferencing software, let's find out what sets HIPAA software apart from the rest. The practices mentioned below help make the platform truly secure and professional and bring success
End-to-end encryption
The ePHI has to be protected during each telehealth session. And end-to-end encryption does just that. It supports the SSL/TLS encryption that provides firewall traversal and proxy for video conferencing solutions.
Private cloud web storage
Although the HIPAA standard doesn't require that all software for video conferencing in healthcare be run on private servers, many solutions do.
Why bother using private servers? Because they are more secure, the provider's firewall protects the data. Those using private cloud storage can use a "no content storage" function that deletes all files and data, including ePHI shared from the system during a telehealth session as soon as it finishes. There's also a large number of telehealth platforms built on the AWS cloud that has a very solid pack of services that comply with HIPAA and HITECH.
Password controls
We all know it's good to use complicated passwords and change them frequently if you build HIPAA-compliant video chat platform. Special units in software for video conferencing remind all users to keep their passwords up-to-date and include alpha-numeric content such as numbers, lower-and-upper-case letters, and symbols.
Password controls operate with time-limited passwords which means that when a users insert incorrect passwords, the system locks them out. A different type of password controls can lock a user after several unsuccessful logins. Moreover, it's possible to require a password when someone wants to download shared files and meeting recordings from the system.
Verification of connection security
It's not enough to establish a stable connection. Many things can go wrong during the initial parts of the connection. For instance, you may end up connecting with an imposter server. Verification technology is more advanced than the one installed with hardware-based video conferencing software installation.
In the hardware-based installation, remote users can change configurations and transmit ePHI without being noticed. A HIPAA-compliant video conferencing platform has a verification technology that checks whether it can establish a secure connection and signals when an error occurs.
Security controls for hosts and providers
These security controls allow providers and hosts to lock out the session or video conference right until the host arrives. What's more, these controls allow you to require unique passwords from presenters, hosts, and attendees. This feature is extremely useful when you're conducting online events like webinars that predict a big number of participants.
Secure the operating system
A firewall is another aspect that should be implemented within a HIPAA-compliant video conferencing platform. Most webinars and presentations are run from devices with general-purpose operating systems such as Windows or iOS.
Before you begin your webinar, your administrators must check your OS for vulnerabilities and find remedy software. For instance, they may want to use properly configured firewalls and administrator credentials. In addition, they should make sure that all your software is updated to the most recent version.
Consider HIPAA-compliant video chat type

There are roughly four major types of software for video conferencing, depending on the purpose they serve. All these types of solutions may have common functions like mute/unmute, unique link generation, etc.
1:1 meetings
If you are about how to create HIPAA-compliant video chat most common type of software video conferencing solutions are platforms for 1:1 communication. In our day-to-day life, we have at least one virtual conversation via a 1:1 video conferencing platform. In healthcare, one-to-one meetings are used for sharing personal health updates and sensitive information between patients and one or more doctors.
Internal video calls/team meetings
With this type of video conferencing software, companies make one step towards providing value-based healthcare services. Platforms for internal team communication allow clinics to engage multiple specialists in one place and provide a 360-degree overview of health improvements for patients with chronic diseases.
External video calls with third-party service providers
Clinics and TPAs alike are integrating with a large number of third-party providers, which means that they need secure and HIPAA-compliant video conferencing software. Face-to-face communication with all parties involved in the process ensures safe and secure data exchange between service providers.
Large or all-hands meetings
Recurring all-hands meetings that gather auditoriums of hundreds of remote specialists help large companies and organizations keep each member in the loop. Be it communication about milestones in the company or large knowledge-sharing conferences, these online events require secure data sharing and must comply with HIPAA.
What do users pay attention to when choosing HIPAA-secure video conferencing software?

All program users should have their own individually identifiable user accounts, strong password requirements, and frequent password updates. You might want to think about two-factor authentication (2FA) to ensure the person is who they say they are. These key factors are important for users in choosing HIPPA compliance platform.
Maintaining complete confidentiality for any PHI you produce, receive, preserve, or transfer is important.
Protect PHI against any hazards that may be foreseen, such as hackers and data loss.
Preventing unauthorized access to PHI is important both internally and outside.
Ensure that everyone on the team is aware of and abides by HIPAA regulations involving PHI.
Prevent data loss and maintain PHI's information accurate to preserve its integrity.
Make PHI accessible, particularly if the patient is switching services.
The danger of PHI data breaches in your application will increase if all users have the same access rights. Make that user may only edit patient data if a system log has been updated to reflect the change. Users should only have access to patient data they can see.
HIPAA-compliant video conferencing software development cost

The product's complexity, development length, technological stack, the size of the team, the speed of hipaa-secure video conferencing software development, and other factors all affect the cost.

Creating the best HIPAA-compliant video conferencing involves several crucial steps, including technical documentation, design, programming, development, prototyping, maintenance, project management, and quality assurance.

A healthcare application will go through more phases the more complicated it is. An app is created in an average of four months. But it may vary based on the complexity and size of an application.

On average, fully functional HIPAA-compliant software costs around $50,000. This price includes building the full system, which must adhere to technological and physical security standards. The system will need to be examined, and developers will also need to spend time getting the required certifications.

Developers can use HIPAA-compliant infrastructure and solutions rather than creating a HIPAA-compliant video conferencing app from scratch or using the existing ones. Ensure that any third-party companies you interact with are reputable regarding handling and preserving PHI. It's optional to engineer video conferencing solutions in-house because companies like Binariks already have all the required knowledge, skills, and experience in creating HIPAA-compliant apps.

We know how to make a video chat app HIPAA-compliant due to we deeply understand HIPAA and choose the tech stack that complies with the standard. Binariks is listed among the 1000 Clutch enterprise telemedicine software development companies. Thanks to the rich experience and deep expertise in telemedicine software development, our tech specialists deliver precise time and cost estimates for creating telehealth applications.
Conclusion

Building a custom video conferencing solution is an arduous job, but it pays off in the long-term perspective. Being the owner of your software for video conferencing brings flexibility, independence, and stable business performance. However, if you see more sense in integrating a ready-made HIPAA-compliant video conferencing solution, there's plenty to choose from.

Developing such software requires experience. It is quite difficult, so you should not try to do it yourself, it is better to entrust this process to a skilled and experienced team, as Binariks.