Software development outsourcing is a long-lasting trend that inspires owners of small businesses and large enterprises change their view on working with remote teams. Around 66% of companies with 50+ employees on board work with remote specialists. Even though small businesses outsource less than 29%, more than half of SMEs consider outsourcing teams.
Getting the ball rolling may seem tough, especially if you have never outsourced before. There are so many aspects to consider. What is better: dedicated engineers or team extension? Where to look for developers? How to organize the process?
Distributed teams vs remote teams: What's the difference?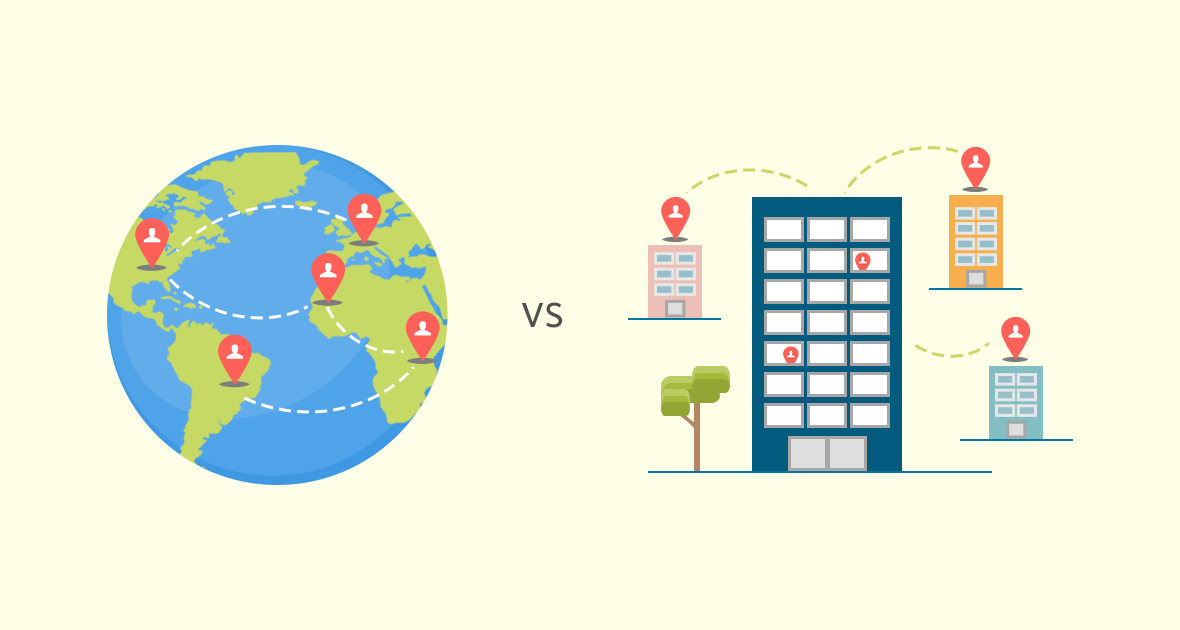 Both in distributed and dispersed teams, employees operate autonomously, away from the company's headquarters. They work independently from the other team members.
Remote teams are more about a hybrid of on-site and dispersed teams with or without a shared office space. If someone dislikes working in an office, they can work from home to be more productive.
Most companies take care of talent retention and make members of the remote teams feel like a part of the extended client's team. They set up Slack channels, host virtual hangouts, organize workshops, knowledge sharing activities, and travel to meet each other.
Remote teams are also more adaptable regarding scalability and experience. Around 77% of employees that work from home do more in less as they minimize work-related stress and are more creative.
Distributed software teams are simpler to assemble. You can access a global pool of developers and tech specialists and pick each team member individually.
In distributed software teams, people who belong to one team can be scattered all around the globe. This makes a distributed team model quite cost-effective. There is no need to pay for training staff or rent an office. And because there is no commute to the office, the distributed workforce may work flexible hours. What's more, you can hire extra engineers on short notice.
Now you know the difference between remote and distributed teams. We are about to continue talking about the latter.
What are the benefits of working with distributed teams?

Managing a distributed team provides advantages that co-located model does not. Co-located teams cannot benefit from lower salaries. Moreover, they do not adopt virtual offices or work from home.
Access to the global tech talent pool
There are only a limited number of employment applicants in your area, but with a distributed team, a worldwide talent pool is open. You have access to top-tier candidates, and even if you want someone with a highly particular skill set, you will certainly find them with any reference to location.
Improving company agility
Experts from different time zones make your company more agile. You may create a "follow the Sun" software development and deployment workflow that runs 24/7. It doesn't require people to work terrible shifts that harm their mental and physical well-being; a good distributed team management will do the trick.
Boosting diversity
Globally distributed work enables companies to be more inventive and creative.
It's hardly surprising, given that various people bring diverse viewpoints to the table. According to diversity research, firms with above-average diversity ratings generated 19 % more innovation-related income than their peers.
Productivity
Diversity boosts the overall productivity of the company. Complacency and a monolithic style of thinking can lead to serious oversights, whereas diversity adds a variety of perspectives to the mix and helps enhance decision-making.
Better local market knowledge
Having staff from all over the world gives insights into local markets and enables better contact with consumers. A firm that provides services and goods globally is a significant benefit since you can better cater to your consumer base and their demands.
It also means that your marketing team will understand better how to target the audience and avoid cultural branding mistakes that can ruin the company's reputation. For instance, when Mercedes-Benz entered the Chinese market and tried to market their brand as "Bensi," they were kindly told that the phrase translated into "rush to die."
Cost-effectiveness
Distributed teams are less costly to manage; that's why companies can save money in the following ways:
They don't have to cover the administrative and rental expenses
There are no commute costs
Having offices in locations with reduced rent and operating costs
Hiring workers outside competitive locations with high living expenses
Bringing your IT infrastructure online rather than keeping costly on-site equipment
What are the key differences between the popular remote team models?

Most IT outsourcing providers offer a flexible software development team structure. This enables them to satisfy the needs of any customer, be it a budding startup or an industry giant. Whereas many small businesses choose the Time and Material model, large enterprises prefer dedicated teams that fully cover the software development cycle. Microsoft, Hilton, CNN, HP, Coca-Cola, Samsung, and Bank of America have switched to leading a globally distributed team.

Let's briefly go over the main types of distributed teams to know which one suits your business best.
Dedicated team model
You come to an IT outsourcing provider with an idea and requirements. From this point forward, they take care of the rest. Depending on the complexity and scope of the project, a dedicated team may include frontend and backend developers, QA engineers, DevOps, UI/UX designers, business analysts, and project managers. Product communication with the whole team, including a remote work project manager and a representative on your side. The hassle of managing a dedicated team is minimized since the software development vendor fully solves legal, recruitment, onboarding, retention, payroll and other administrative aspects.
Managed team model
This distributed team model is an intermediate option between dedicated and extended team models. With the managed team model, an outsourcer sends a project manager to organize the work of the remote specialists. The manager regularly reports to the product owner and formulates the requirements for the remote team. This method of remote collaboration is less popular than the dedicated team model since it requires staff relocation, which rarely pays off. Besides, the managed team model is difficult to deploy under the current quarantine conditions.
Extended team model
The extended team model is most popular among companies with IT departments but needs to expand. It usually happens when the local market cannot supply the necessary specialists or a project requires a subject-matter expert. A third-party vendor offers you the specialists to remotely become an integral part of your in-house team. Time and Material model is used more often than the fixed price model for team extension.
What payment options for distributed teams can you use?

Usually, companies are charged monthly for the noted models based on the composition and size of the team and a fixed service charge per role and level of expertise.

If a project is small or unlikely to scale, you may consider the Time and Material model, where you pay for the actual time spent on development. The preferable option depends on the duration and scope of your project and is usually discussed with an outsourcing partner at early stages of cooperation.

The most significant obstacle to assembling a remote team is the inability to pay your experts on time. Large and small firms don't know how the global payroll functions. What other challenges do they face?

Additional expenses: Even if you can live with the extra effort that processing payments with non-enterprise solutions might entail, the cost of payments can stop this project. Fees can influence how much your employees receive or how much you are required to pay them.

Reporting and compliance: Manual payroll processing is a costly procedure and it makes compliance and reporting more time-consuming. And if you don't have a well-organized accounting infrastructure. the inability to connect these payment systems throws a wrench into your compliance and reporting engine.
When is a dedicated model team an optimum choice for your company?

This guide focuses on the most widespread and traditional approach to remote working – a dedicated team model. It's a universal distributed team model for companies of any size and industry. To understand if the dedicated software development team is right for you, check yourself with this list.
Choose the dedicated model if you:
✅ Start a complex project that requires specialists with a different set of skills and qualifications
✅ Have an ongoing project with the continuous need for developers
✅ Lack of professional workforce in your local market
✅ Need more cost-effective software development
✅ Want to start working on the project asap and reduce time-to-market
✅ Need to quickly scale the project
✅ Want to speed up the development process to create an MVP or demo asap
Don't choose the dedicated model when you:
❌ Start a short-term project
❌ Hire an in-house software engineering team and plan to keep it
❌ Cannot ensure continuous workload for developers
❌ Have a very limited budget
To find more about the dedicated teams for software outsourcing , read our article on the benefits of the dedicated model.
Where to find a distributed team?

Now that you've decided to lead a globally distributed team, here comes a logical question: How to find it?

First of all, you need to choose the location of remote engineers. The region usually impacts salary expectations, potential employees' soft and hard skills, and time zone differences. Generally, there are three options to pick from onshore, nearshore, or offshore development team.

In recent years, Eastern Europe has gained popularity as an offshore outsourcing destination. The local specialists have a similar mentality to the Western cultures, boast decent English acquisition levels, and have profound technical expertise. Their services are more affordable, with the average developer salary several times lower than in the US. The industry market shows that US and European clients save 60% of their costs with Ukrainian companies. Asia and Latin America are other renowned offshore destinations with favorable outsourcing conditions.

Although you can hire software engineers through freelance marketplaces such as Upwork, the administration will fall on your shoulders. It will organize offshore team management for you and has the necessary expertise for effective offshore development.

Let's sum up. To start the search for a perfect distributed team, you need
Choose the outsourcing destination.
Find a local company with relevant experience and skills.
How to set up a remote distributed team?

At Binariks, we know how to build and manage a software development team and organize offshore team management. It takes around five steps from voicing the requirements to starting work.
Step #1. Gathering requirements
Binariks team will communicate with a customer to clarify the requirements for the final product. At this stage, the customer also needs to specify the team size, mandatory technical & soft skills, and expected workflow. This information helps to plan the composition of the dedicated model team and estimate the hiring deadlines and budget.
Step #2. Searching for talents
If an outsourcing vendor has unoccupied tech specialists, they can be immediately engaged. If not, it initiates the recruiting and onboarding process that may take up to a month. Most software development outsourcing companies have recruiters and access to local developers, allowing them to build an outsourced team quickly.
Step #3. Recruitment and selection
HR managers, recruiters, and tech leaders organize a series of interviews to assess the candidates. They learn the developers' background and evaluate their technical skills and English acquisition level. HR managers also check potential employee's soft skills to ensure the "forming, storming, norming, and performing" cycle will be as smooth as possible. Once the initial screening is over, the customer will only interview the shortlisted candidates to choose the best fit for the project. It saves time while allowing customers to participate in team formation.
Step #4. Team integration
Hired engineers either join an ongoing project or start a new one from scratch. You can choose the preferred management approach and team software. We usually recommend making a personal visit as one of the best practices for managing offshore specialists. It boosts team spirit and helps ensure you and the remote developers are on the same page with the rest of the team.
Step #5. Successful start of the project
You get the requested specialists who constantly stay in touch with your company and adhere to the approved schedule. The communication is so smooth, there is no difference between remote developers and in-house staff. The only one is that they work remotely and you don't have to worry about the administrative tasks. Once you sign several documents, you can get down to the project.
How to successfully manage a distributed team?

Managers significantly affect the team's performance as part of their organizational duties of building an environment for remote work. Managers will be the first line of defense or attack regarding cultural incompatibilities, time zone limits, trust concerns, and being aware of the potential for distance and separation. They must always be aware of and promote team communication and task and job coordination to develop a successful remote team environment. Additionally, persons in positions of authority must:
Choose the best team members.
Create common ground
Set goals and make preparations.
Allow time and virtual space for everyone on the team to attend meetings.
Team-building exercises can help to increase trust and group cohesion.
Although there are challenges to overcome with dispersed teams, they are similar to those encountered with in-office teams. Because of technological advances and firms committed to flexible work rules, location can become less important. Companies have to establish a more progressive manner of working.
Whether you wonder how to improve communication with a remote team, then the next point is for you.
What remote collaboration tools can you use for distributed teams?

Modern software solutions simplify connecting and managing people in different parts of the world.

You will most likely have to combine several types of tools to satisfy all your needs. The main categories include
Project management software: Trello, Basecamp, Asana, Atlassian Jira, Wrike
Document collaboration tools: Google Drive, Dropbox
Communication tools: Slack, Skype, Zoom
Code management tools: GitLab, GitHub, Bitbucket
Outsourcers commonly use these collaboration tools for remote teams. They help to ensure seamless communication between two parties and create a shared space to track and discuss the progress. If you're using any specific tool, don't hesitate to offer it to your remote colleagues. There is usually no problem with switching to new project management or communication software.
Some customers also insist on using time trackers for the time and materials model. Although numerous tracking tools exist, including Toggl, Hours, or Jira, their effectiveness is questionable. Many developers complain about feeling watched and policed, which may affect the final result's productivity.
What are the most frequent challenges in working with a dedicated team?

Everything has its pros and cons. The same relates to outsourcing and remote cooperation. Although some challenges to managing a geographically distributed team are undeniable, there are chances to overcome them. If thousands of companies worldwide have managed to organize outsourcing effectively, you can, too.

Here are the most common dedicated team challenges.
Varying scope of work
The more complex the project, the more difficult it may be to estimate its scope. As a result, many customers aren't sure whether they need dedicated developers for long-term cooperation. They fear the workload may not be enough to provide the hired engineers with regular tasks.
Cultural diversity
When you hire a team from another world, cultural differences are inevitable. They include anything from personal distance to mindset. Therefore, many employers fear that their remote colleagues won't follow the existing business processes.
Remote team management
Management is never easy. Building trust-based relationships is even harder when you cannot meet your team members in person. Many managers are also concerned about tracking work and performance.
Time difference
This issue is common among companies working with offshore teams. Specifically, Asia is around 12 hours ahead of the US, whereas the time difference with Eastern Europe is 7 hours. Thus, those who have decided to outsource often have to find a way to synchronize work in two (or more) time zones.
How can you keep your distributed team engaged?

Keeping a remote team motivated may appear challenging, and many managers turn to unproductive techniques such as micromanagement. The fact is that a happy employee is an engaged employee. Here are some suggestions for increasing employee engagement in a dispersed team.
Avoid micromanaging
One of the most effective ways to increase team engagement is to believe that you hired the appropriate people, enabled them to perform their best job, and given them the freedom to determine how they will fulfill their responsibilities.
Encourage work-life balance
As a remote team manager, you should encourage workers to develop appropriate work-life boundaries and disconnect outside work hours.
Use two-way communication
You may speak with them on how to better assist them and what you can do to keep them interested. You should encourage them to express criticism and accept it gently and thoughtfully.
Appreciate achievement
Employees who do not feel appreciated for their efforts are twice as likely to declare their intention to leave. Recognition and appreciation are even more important in remote teams for making everyone feel like a vital team member.
Measure outcomes rather than time
Allowing employees the freedom and liberty to work on their terms while providing clear objectives and goals for them to meet increases their likelihood of being comfortable and engaged.
Conclusion

No physical obstacles should stop you from leading a software development team remotely if you need quality engineering services. Our guide covers the difference between remote and distributed team models, where, when, and how to hire distributed teams, and how to manage them efficiently.

Want to know more about the possibilities of hiring outsourced software engineers? Contact Binariks for assistance.
Subscribe to our newsletter